Hello, readers,
As I try to get more into makeup and try to find a couple of looks that work for me, I've come across some makeup products that are just either incredibly adorable or super pretty. I decided to write this post just to have an excuse to keep looking for beautifully packaged products that I may never purchase or use myself.
* * *
All the links I include are to the brand's websites. That may or may not be the best place to buy any of these products (if you decide you want them), depending on where you live.
Ugh, this is such a beautiful concept. There are little paper rose petals that are covered in blush pigments, so you're supposed to dip your brush into the petals. I really love the idea. The glaringly obvious negative is that this blush is really expensive. The pretty pots are also made of plastic, so this isn't actually super luxurious and elegant. This is by a Japanese brand, and all their products are really beautifully designed. I feel like any of them, but this one especially, would be fantastic for any classic lolita's vanity.
Makeup Revolution also has a "Salted Caramel" chocolate bar palette that looks more like a light milk chocolate, and a "Pink Fizz" bar that's strawberry pink. The "Chocolate Vice" palette has black packaging. These are supposed to be duplicates for the more expensive Chocolate Bar Palettes from Too Faced, but I think that the Makeup Revolution packaging is a lot cooler. Also, they have more palette color options. I don't keep up with the trends in sweet lolita, but I think these would be such a neat item for a sweet-lolita-with-a-chocolate-print-collection's vanity.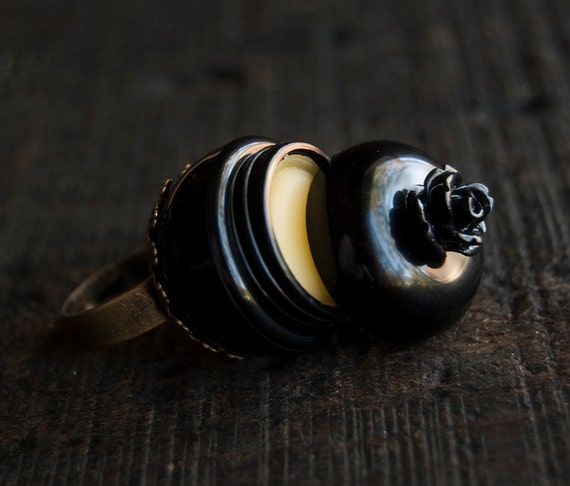 I'm really enamored with this idea. I really wanted to put a lip gloss/balm ring from Anna Sui on this list, but they seem to be far too hard to find. This one from Etsy comes fairly close to the look of those ones, and it's in stock. Forget leaving this on your vanity, I think that these sorts of rings would look delightful with any gothic lolita coord. Of course, you could try to find ones that would match a sweet or classic coord, but I like that these remind me of poison rings. It seems more inherently gothic to me. Since the lip balm is housed in a little pot, you could keep refilling it as it runs out.
(I know I have a metal allergy, so I thought I would include this little extra note. If you want to make one of these yourself, make sure you use a plastic pot/ring! You don't want to accidentally get a bad reaction on your lips or ingest something you're allergic to.)
The packaging of these blush compacts makes me really happy. They're cute little hearts with a heart-shaped mirror and embossed bunnies! I think that these blushes are just darling to look at. There is a big part of me that just wants to be silly and buy all of them because they're so cute, but I won't be doing that as they're $26 each. I still want to, though. I think these would fit so well on a sweet-classic lolita vanity.
(Eyeshadow) Alice in Wonderland Book of Shadows – Urban Decay
This is just such a pretty eyeshadow palette. Urban Decay released this to coincide with the release of the first Tim Burton Alice movie, so this is no longer available for purchase. I just had to include it in this list because I think that this palette is so pretty, and Alice in Wonderland has a special place in my heart. I love that this palette has pop-up illustrations, and some of the names of these eyeshadows (the blue shadow is called Alice and the black one is called Jaberwocky) make me quite happy. The brand did come out with a collection for Through the Looking Glass, but I don't think that the packaging is pretty at all. It also does not remind me of Wonderland, either in the packaging or in the actual colors of the makeup products. (If you're curious about it though, you can check it out on Urban Decay's website.)
I actually own two of the blushes from this line: Romantic Rose and Tea Rose. These blushes may be a bit simpler than the other two blushes in this makeup product roundup, but I still think that the 3D embossed rose is super pretty. I think that the roses are actually pretty style-neutral when it comes to lolita substyles, but the gold packaging would probably look best on a sweet-classic or classic lolita vanity.
Honestly, it was hard for me to decide which product from LunatiCK Cosmetics Labs to put on this list. The contour palette is what they're famous for, I think, but I prefer the packaging on their other products. Their lipsticks are shaped like black bullets, and their eyeshadow palettes are coffin-shaped, covered with fortune telling images, with bat-shaped mirrors inside. Still, I think that their mattifying pressed powder has my favorite packaging. Normally, I wouldn't like that it looks messy, but I really like that it looks like a Ouija planchette. This would be very cool on a gothic lolita's vanity.
* * *
Well, readers, what makeup products do you think have the prettiest packaging? Have you ever bought a makeup product or perfume just because you thought it looked darling? Let me know in the comments below.
Stay rosy,
Raven